DEKALB, Ill. - In an unprecedented year, Northern Illinois University supporters stepped up for NIU student-athletes at record-setting levels as Huskies Invest: The Campaign concluded with more than $625,000 raised from more than 1,000 gifts, NIU Associate Vice-President and Director of Athletics Sean T. Frazier announced Monday. Huskies Invest has raised more than $1.3 million since its inception three years ago.
For 2020, the annual fundraising effort for the Huskie Athletic Fund was extended from its traditional Week of Giving and incorporated a variety of initiatives in order to provide a focus on raising funds for COVID-19 relief, while still providing opportunities for donors to support individual sport programs as well as the Huskie Marching Band and NIU Recreation.
"We cannot thank all of our alumni, fans, loyal supporters and members of the Huskie Family enough, including our coaches and staff, who participated in Huskies Invest: The Campaign," Frazier said. "We continue to raise the bar in support of NIU student-athletes, and what has been accomplished so far this year is uplifting to our entire staff. It is unbelievably humbling to see Huskie Nation continue to step up. Whether you gave $10 or $50,000, we appreciate every one of you!"
In addition to the record number of total gifts received, more than 500 donors participated in Huskies Invest: The Campaign in 2020, including more than 150 new donors. The total number of donors more than doubled the number of donors who participated in Huskies Invest in the past, as the previous record was 214 donors in 2019.
"The success of this year's Huskies Invest has been simply outstanding and gives us tremendous momentum as we continue to battle the effects of COVID-19 within our department," Frazier continued. "We recognize there is still a great deal of work ahead as we navigate this pandemic, but we do so with the peace of mind of having so many Huskies from around the country who have stood with us through an outpouring of support over the recent months."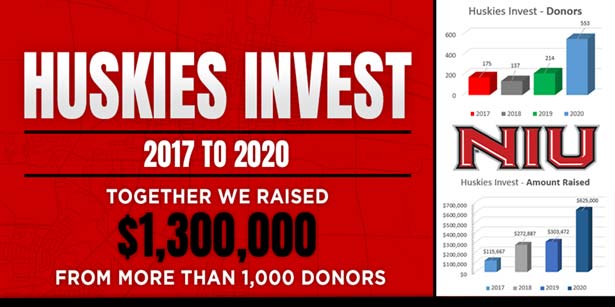 Huskies Invest kicked off in late September with the Huskies Invest Virtual Golf Outing, providing fans from throughout the country the opportunity to support NIU Athletics by playing at their local course in a best ball format with a group, or as an individual. Golfers from as far away as South Carolina and Massachusetts competed with local supporters over a three-week period to determine the winners.
Season ticket members, whose support provides a foundation for NIU Athletics every year, continued to show their commitment to NIU student-athletes during the Campaign. Of the season ticket members who chose to renew their tickets last spring, 33 percent donated their tickets or premium seat payments back to the department and 53 percent rolled their tickets/premiums over to the 2021 season. All told, 86 percent of all football season ticket account holders chose to support the department in some form.
Many new donors, as well as season ticket members, chose to support Huskies Invest and the Huskie Athletic Fund through the purchase of Huskie Fan Cutouts in 2020, with more than 300 sold to date. Available for the 2020 football games at Huskie Stadium, for the 2020-21 NIU men's and women's basketball seasons in the Convocation Center – and soon – for the 2021 spring volleyball, gymnastics and wrestling seasons, a portion of each Huskie Fan Cutout sold goes to support NIU Athletics' COVID-19 relief efforts through Huskies Invest.
Even before the Mid-American Conference and its member schools decided to play a 2020 football season beginning in November, NIU Athletics was determined to bring Huskie Football to its fans through special edition replays of historic NIU victories on the NIU Athletics YouTube Channel. In October, two "Huskie Replay" games were incorporated into Huskies Invest: The Campaign, complete with commentary and memories supplied by the alums who wore the Cardinal and Black. During Huskies Invest, fans were able to watch NIU's historic 2003 win over Alabama, at the time available only on pay-per-view, as well as NIU's 2002 win over Miami University that featured a match-up of Huskie great Michael Turner and Miami quarterback Ben Roethlisberger.
YouTube was also the home of Huskies Invest throughout the Week of Giving (October 17-24) as supporters heard from current and former student-athletes and coaches via video messages that were posted on NIU Athletics' and Huskie Athletic Fund social media platforms, as well as on HuskieAthleticFund.com. Fans were able to check the campaign website as the dollar totals and donor numbers kept climbing toward – and ultimately over – the $600,000 mark.
NIU women's basketball senior Paulina Castro, who has a new perspective on the support NIU student-athletes receive in 2020, expressed her appreciation for the donors.
"I have been fortunate to see the generous contributions as a student-athlete, and in this, my senior season, I also get to view it through the lens of a staff member," Castro said. "As an intern with the Huskie Athletic Fund this fall, I have witnessed so many amazing people step up to help and I just want to say on behalf of myself, my teammates and all NIU student-athletes, Thank You."
NIU long-time supporter David Turner said giving back while supporting NIU student-athletes and programs has been a gratifying experience.
"As an alumnus of NIU and an avid sports fan, it made a lot of sense for me to plug into NIU Athletics," Turner said. "Despite living over 45 minutes away from campus, the areas I have chosen to support have invited me in and made my experience as a donor extremely rewarding."
Donations to this year's Huskies Invest: The Campaign supported a wide variety of initiatives in addition to COVID-19 relief, including unrestricted support, capital projects and specific initiatives, whether for individual sport programs or for the Huskie Marching Band and NIU Recreation.
The NIU golf programs saw an outpouring of donations during the Week of Giving and NIU men's golf head coach John Carlson is thankful.
"As a program who benefited tremendously from this year's Huskies Invest, I cannot thank all those who directly contributed to our golf programs, and really to all our programs this year, enough," Carlson said. "The sheer number of gifts speaks volumes about the commitment and dedication of our supporters throughout the country during a very challenging time."
The many challenges of 2020, which have limited NIU Athletics' ability to generate revenue in some areas, have reinforced the importance of Huskies Invest and of all the Huskies' fundraising efforts throughout the year, Frazier said.
"NIU Athletics has a longstanding tradition of success," Frazier said. "Huskies Invest is absolutely critical to our ability to sustain and continue to build that tradition despite the many challenges we face both now and in the future. I'm excited about what we were able to accomplish this year, but we have to keep pushing to ensure we are able to continue to move forward."
To learn more about supporting NIU Athletics through the Huskie Athletic Fund, go to HuskieAthleticFund.com or call the Huskie Athletic Fund at 815-753-1923 Monday thru Friday from 8 am- 5 pm.