Thank you for your outpouring of support over the past several months. It is difficult to imagine where we would be without your willingness to stick with us during these uncertain times. I cannot tell you how much we appreciate your patience as we continue to navigate COVID-19 within our department and the broader landscape of intercollegiate athletics. Your collective passion for all things Huskies continue to inspire us as we face the numerous obstacles ahead.
NIU Athletics is facing the greatest financial challenge we have seen in our lifetime and we absolutely need each and every one of you to stand with us for Huskies Invest. The financial impact of COVID-19 is real. We are minimally facing a $3 million shortfall and currently projecting a 23% decrease in overall revenue with the capacity restrictions in place for fall and winter sports. As we have shared previously, we took significant cost containment actions that directly impacts our student-athletes, coaches, staff and all of our operational staff. This is not an easy time and these are not easy decisions. All that to say – we need you now more than ever before.
As we begin the 2020-21 academic year, even with most fall sports postponed to the spring and football not starting until November, it is critical that we understand we still have an obligation to educate and support our young people in every possible way, through our faculty, medical teams, sports performance, and mental health services, they all play significant factors in the well-being of our student-athletes. Support from our community is vital as well.
We are asking all of Huskie Nation, whether you are an alum, former student-athlete, parent, season ticket member, community member, or just someone who can help, to consider participating in the Huskies Invest campaign. No gift is too big or too small – ALL gifts will make a direct impact in support of our more than 400 NIU student-athletes and 17 sports programs.
We will get through this as this too shall pass, but we need you Huskies! The strength of the dog is in the pack and HUSKIES.NEVER.QUIT.
Forward, Together Forward!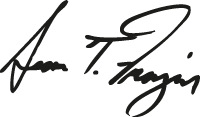 Sean T. Frazier
Associate VP, Director of Athletics