Huskie Nation,
In a year unlike any other, the dedication, determination and resilience of NIU student-athletes has been truly inspiring. They have overcome obstacles and adapted to new protocols – in classes, practice and competition – while excelling both academically and athletically.
In the classroom, NIU student-athletes combined to post an impressive 3.24 grade point average for the fall term. Women's Gymnastics set the bar with a GPA of 3.858 with men's tennis on their heels with a 3.837 mark. Overall, we saw record-breaking numbers across the board; the Huskies are flat out getting it done in the classroom!
Athletically, despite competing in just one meet prior to the MAC Championships this fall, women's cross country brought home its first team MAC Championship in program history led by runner-up Ashley Tutt and third-place finisher Mackenzie Callahan. At the 2020 MAC Championships, held in DeKalb last March before COVID-19 hit, Brit Wilson brought home the individual MAC Championship in wrestling at 184 pounds. Additionally, women's cross country coach Adrian Myers and wrestling head coach Ryan Ludwig each won MAC Coach of the Year honors in the past year. The Huskie football team, which ranked as one of the youngest in the nation, saw the emergence of former walk-on Trayvon Rudolph, who garnered multiple Freshman All-America honors as a kickoff returner as he gave a glimpse into the talent that has been assembled and is ready to attack 2021.
Huskie Nation united this past year like we have never seen before. June's Victor E. Bash – converted into a multi-night virtual event – raised more than $150,000, providing momentum for the recently completed Huskies Invest campaign which saw more than 1,000 contributions to support NIU student-athletes for a total that surpassed the $600,000 mark.
There is no doubt that your support, whether large or small, directly affects the success – in competition and in the classroom - of NIU's more than 400 student-athletes in 17 sports programs. With our athletics family growing to include the Huskie Marching Band and Recreation, the contributions by our donors have the ability to impact nearly every student who steps on campus.
With this in mind, we continue to push forward and have significant expectations for what we can accomplish in 2021. Like our student-athletes, we will be resilient and adaptable while focusing on meeting our specific financial goals. Of course, it is only with the help and dedication of donors like you that we can continue to provide exceptional experiences and resources for Huskie student-athletes.
The outstanding support we received in 2020, a most challenging year for us all, did not go unnoticed and is always, always appreciated. Thank you for being there for us - and most of all for our student-athletes - yesterday, today and tomorrow. Here's to a great 2021!
As always, Go Huskies!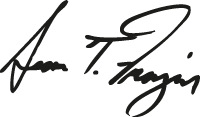 Sean T. Frazier
Associate Vice President/Director of Athletics
Northern Illinois University